About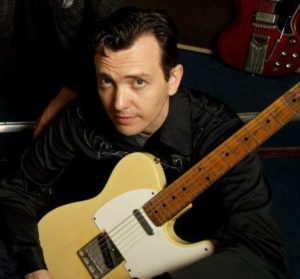 Eric Daw has been obsessed with guitars from an early age, and has been repairing guitars professionally since the mid 1990's.  He was the premier guitar repair guru in Seattle for 15 years during his tenure at the renowned vintage guitar shop, Emerald City Guitars, in Seattle's Pioneer Square neighborhood.  His skill and reputation brought in business from local and national players alike.  He has worked with many professional players from ZZ Top's front man Billy Gibbons to legendary jazz man Bill Frisell.  Eric's custom guitars have been sought out by many professionals as well, from Steely Dan's Walter Becker to guitar slinger Charlie Sexton.
Eric hosts a weekly podcast called the Fret Files, where he talks guitar tech, guitar repair, guitar tools, guitar building and all things relating to the art of guitar craft. On the podcast, Eric takes calls, reads emails, and interviews a myriad of interesting guitar people.  Eric has also been twice interviewed by the Fretboard Journal magazine, once as part of their podcast and also in their "Bench Press" feature.   Music Inc Magazine has also written about Eric, as well as numerous other guitar-centric blogs and publications.
Eric relocated to his home state of Idaho in 2017 where he builds and repairs guitars out of his home shop in Idaho Falls.  Eric also makes custom pickups, and is an expert at restoring vintage guitars.
Eric taught himself to play guitar and has been an avid player since childhood.
The following as an excerpt from an article in the July 2014 Music Inc magazine-